Welcome to the Division of Student Affairs at the University of Mississippi.  Currently, there are over 40 graduate assistant positions in our division that offer a wide range of experience from student engagement to administration.  Under the leadership of our Vice Chancellor, Dr. Charlotte Pegues, graduate assistantships are designed to give students working on a masters or terminal degree the skills needed to succeed in the field of higher education while incorporating student development theory, best practices, assessment, and research. Current graduate assistant positions are unavailable at this time as each position's director is finalizing descriptions.  A full list will be sent to all admitted Higher Education Graduate Students in February 2022.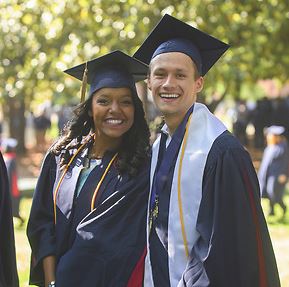 The Division of Student Affairs will host the Virtual Graduate Assistant Recruiting Days in March of 2022. This recruiting event allows admitted students to meet with all Student Affairs  Senior Leadership and Higher Education faculty at the university. In addition, current graduate students are on hand to answer any and all questions about the program, life in Oxford, housing, and things to do.  Please note, only students admitted to the Higher Education masters or doctoral program for the 2022-2023 academic year are invited to this recruiting event.
If you have questions regarding graduate assistantships within the division, please email Andrew Wildman at awildman@olemiss.edu. Please note that graduate assistantships in the Division of Student Affairs are prioritized for higher education graduate students. Students enrolled in other colleges and school should reach out to their respective program coordinator first. If you have questions about your application status please contact gradeducation@olemiss.edu.